Mike 2E0YYY let me know via messenger that after a bad start 20m seemed to be opening up in the afternoon yesterday, and with my daughter wanting to see her friends in Kendal I took the opportunity to take the FT-857, SotaBEAMS Band Hopper IV antenna and setup on the westerly edge of Scout Scar.
Scout Scar
| WOTA ID: LDO-101 | Height: 233 m (764 ft) |
| --- | --- |
| SOTA ID: n/a | Grid ref: SD486919 |
| HuMP ID: G/HLD-029 | QTH Locator: IO84OH |
| Book: The Outlying Fells | Lat: 54.319939 Long: -2.790296 |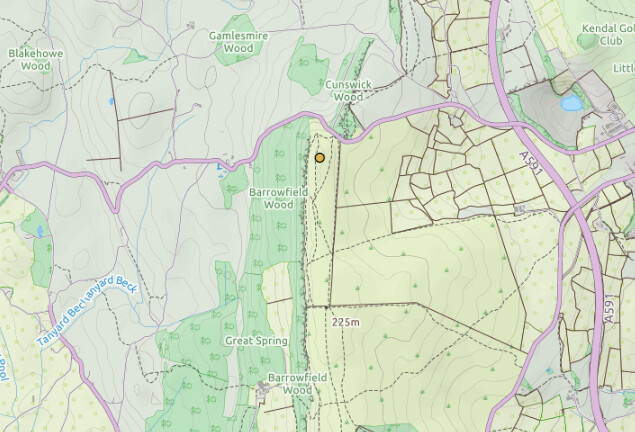 I'd literally turned the radio on and tuned down the band around 10 Khz when I came across Helio PV8AL calling CQ from Brazil, and I was straight in there. I had to ask him to hold on whilst I found a pencil! Had a quick chat, he is always a big signal, then moved on. What a great start.
There were lots of folk walking along the Scar near my operating position so I had to break off several times to explain what I was doing. I messaged the HEMA Facebook Group (this is a joint WOTA/HEMA summit) and took a few calls on 80m from the regular chasers. Next time I will spot myself on the WOTA page as well. I had 2m with me and heard @G7CDA Douggie and @g1ohh Sue on a C4FM net which was just winding up, but didn't end up having a 2m QSO even though I had the SlimJ up the mast. New DX entity for me Dominican Republic and actually a really nice chat with Mario HI8/HB9EMR to end the evening at just before 11pm local. The temperature held and the wind was calm, the icing on the cake being finally making the trip to KM1NDY Mindy who was jointly activating 10 point SOTA summit Whiteface Mountain W2/GA-003 at 1483m. Initially they were calling on 14.204 but I had a big Italian station on 14.205, then they moved to 14.230 which is in the image transfer section of the band. It didn't seem to be bothering them but I had 59 QRM on and off, however with a bit of perseverance we got there.
| TIME | CALLSIGN | FREQ | BAND | MODE | RST | RSR | SOTA-RX | OPERATOR | COMMENT |
| --- | --- | --- | --- | --- | --- | --- | --- | --- | --- |
| 19:16 | PV8AL | 14.295 | 20m | SSB | 57 | 57 | | Helio | WX: 86 degF 95% humidity, MAS |
| 19:25 | S51DX | 14.240 | 20m | SSB | 59 | 59 | | Yanis | ANT: 5 Elem Yagi |
| 19:29 | F4GDO | 14.214 | 20m | SSB | 59 | 59 | | John | |
| 19:49 | 2E0FEH | 3.743 | 80m | SSB | 58 | 57 | | Kruger | |
| 19:50 | G0RQL | 3.743 | 80m | SSB | 59 | 59 | | ROOMES | |
| 19:51 | G4IAR | 3.743 | 80m | SSB | 59 | 59 | | BROOKS | |
| 19:52 | MW0ISC | 3.743 | 80m | SSB | 59 | 59 | | Charles | |
| 19:57 | SV8/PH9HB | 14.267 | 20m | SSB | 59 | 44 | | Gerry | ANT: Dipole |
| 20:01 | K1GUY | 14.175 | 20m | SSB | 59 | 59 | | STEINER | |
| 20:04 | K1NH | 14.175 | 20m | SSB | 59 | 59 | | LAVOIE | |
| 20:28 | I2ROO | 14.211 | 20m | SSB | 59 | 59 | | Robert | WX: 27 degC, ANT: 2 Elem Delt |
| 20:40 | PZ2YT | 14.287 | 20m | SSB | 59 | 58 | | Torres | |
| 21:00 | KM1NDY | 14.230 | 20m | SSB | 59 | 55 | W2/GA-003 | Hull | SOTA: W2/GA-003 |
| 21:11 | KB0MPV | 14.303 | 20m | SSB | 59 | 55 | | Mike | |
| 21:13 | DK5ONV/P | 14.303 | 20m | SSB | 59 | 58 | | Gunter | WX: 20 degC, ANT: End-Fed Inv |
| 21:25 | ON7DQ | 14.303 | 20m | CW | 589 | 577 | | Decroos | SKCC: 1490 |
| 21:51 | HI8/HB9EMR | 14.308 | 20m | SSB | 59 | 57 | | Mario | ANT: Wire Dipole |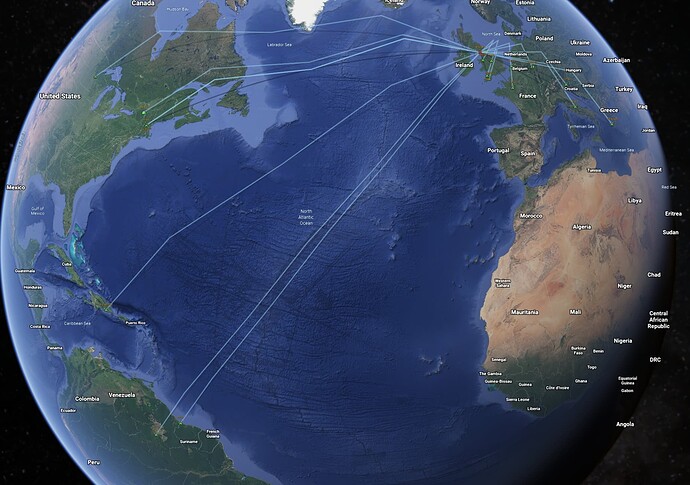 QSO Map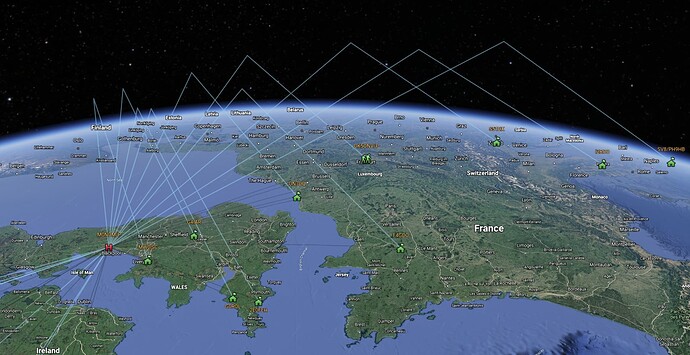 European Contacts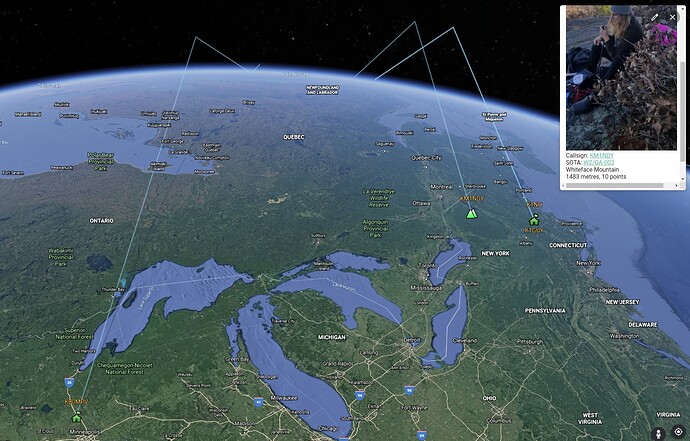 US Contacts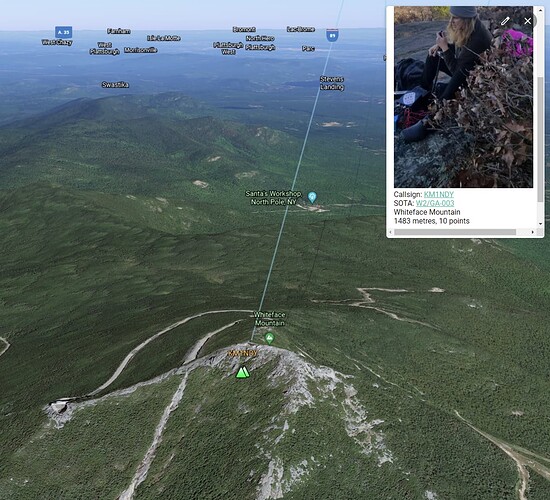 Mindy on Whiteface Mountain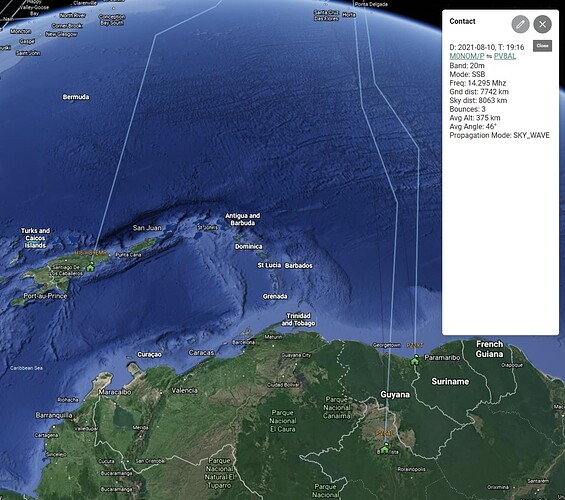 Longest contact of the evening with PV8AL