Crinkle Crags aka Long Top LDW-017
Also HEMA Summit G/HLD-013
8th August 2019
9th August
Wow, what a difference a day makes! I feel sorry for the several groups I saw camping out near Red Tarn - the rain started at around 3am this morning and, apart from a few breaks, has been on-and-off and torrential at times. There is something magical about listening to light rain when cozy inside a tent, but I fear armbands might have been required!
However, yesterday was a different matter. A last minute decision to execute a plan which had faltered on previous opportunities. I set off from home in Windermere around 5:45pm and parked at the top of Wrynose for my ascent, via Red Tar and Great Knott to Long Top aka Crinkle Crags. It was a beautiful evening made more special by good visibility. The Isle of Man was as clear and seemed as close as I have seen it from a Lake District summit.
I had thought about ascending via Cold Pike LDW-088 but somehow set off towards Red Tarn on autopilot. The ascent was fairly straight forward. In his Pictorial Guide to the Lakeland Fells , Alfred Wainwright describes Crinkle Crags as
Much too good to be missed … this is a climb deserving of high priority.
You can see Crinkle Crags very clearly from Windermere, my home, although not from my house. I only have to walk 10 minutes up the road to get amazing views over to the Crags and the Landales. For this reason the trip was always going to be special, and long overdue!
Looking to the West towards Harter Fell
Looking back towards Red Tarn
Stunning view East with the Langales on the left and Helvellyn range behind
View to the West - Seascale and the Isle of Man clearly visible
After taking some photos and putting on clothing I turned quickly to radio. Using the FT1XD with RH-770 antenna a CQ call on 2m brought Geoff @GM4WHA in instantly, with John G0TDM very quickly afterwards. I continued with a few nice QSOs on 2m, including regular chaser Steve MW0ISC in Wales together with Carl mobile in Central Anglesea.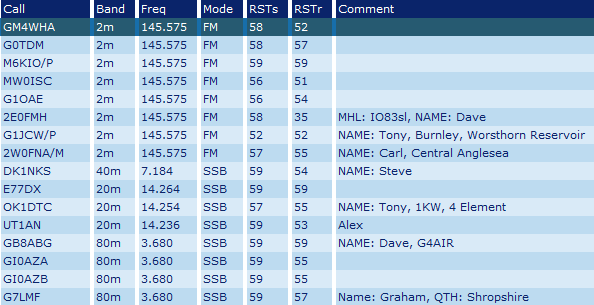 Call log
Soon afterwards I erected the Sotabeam QuadBand dipole using my lightweight Decathalon 6m travel mast. The mast does surprisingly well in high wind given how light it is. I started on 40m but that was very noisy with just one contact. 20m proved slightly better and my longest contact into the Ukraine at 1,600 miles. I was in contact with the HEMA facebook messenger list and gave them the run around for a bit whilst my internet pinged in and out and also with Alex phoning just before starting on 80m in the middle of booking a holiday.
80m proved to work quite well with the KX3 at 10w with Esther GI0AZA and her husband Ian good copy in Ireland with Dave G4AIR and Graham in Shropshire G7LMF completing the contacts. By this time light was fading fast. I had togged up and wasn't too cold.
South - Barrow and Walney Island
Spectacular sky over Scafell Pike
The descent was uneventful for the most part although I had to start using the headtorch before I was off the summit. Geoff had asked if I'd come via "Bad Step on the way up":
The ridge includes the so-called "Bad Step", a steep declivity which catches out many walkers when travelling from north to south; however, the obstacle can be by-passed without too much trouble.
No Geoff, but I managed to traverse the crag so that I had to negotiate it on the way back. At this point I'm thinking "OK, so I'm climbing down Bad Step, a steep drop, in the dark, on my own". I took it very carefully, and appreciated the situation fully!
Passing a few lads as I neared my car at the top of Wrynose who were late comers to the wild camping party I once again wonder how they got on in the wind and rain today.
I like if possible to feel like my fell walking is a bit of an adventure and I definitely succeeded on that count with this trip to the magical Crinkle Crags.
Highly recommended! Mark.