Decided to start our recommenced WOTA and SOTA with a decent trek including the two joint SOTA/WOTA summits of Stony Cove Pike and High Street with the WOTAs Thornthwaite Crag, Froswick, the joint WOTA/HEMA Ill Bell and Yoke.
I'd done this route with Alex last year, so knew that it was going to be a long old day. Not too early a start however. This was a linear walk - from the start point at Kirkstone Inn to the Church at Troutbeck. Total distance was around 13 miles.
Stony Cove Pike (Caudale Moor)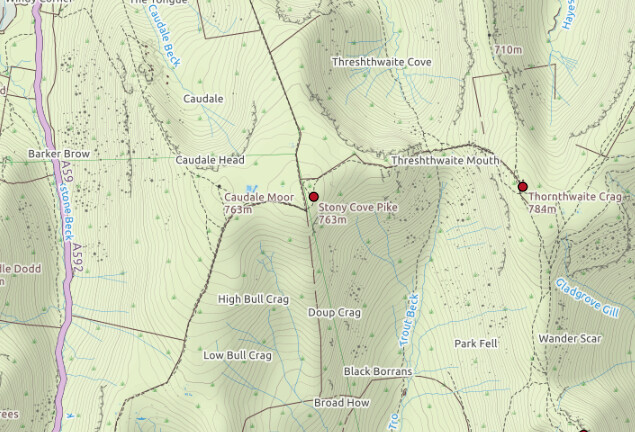 I've had some real adventures involving Stony Cove Pike - a couple of snow-filled winter fun days and an overnight camp where I got lucky with Tropospheric lift and worked two stations in Norfolk using the FT1XD with RH770 telescopic whip. The walk up today was uneventful. I had decided to bring the FT-817, SotaBeams Band Hopper IV 20/40/60/80m Inv-V dipole. I couldn't find a VHF antenna, my Spectrum Communications Slim J has gone walk about, so VHF activations were with the Spectrum Communications 49cm whip on top of the FT817. I couldn't find the handheld either (I have subsequently) so this was radio quiet apart from activation time. I did pack the JetBoil so enjoyed a porridge breakfast and a couple of wonderful coffees - with the water filter being filled on a couple of occasions, I didn't bring any water with me.
Top of Raven Crag
Looking towards Stony Cove Pike Summit
Ridgeline of Froswick & Ill Bell
Snow on the Easterly side of Helvellyn
Red Screes
A good set of HF contacts from Stony Cove Pike but I hadn't yet mustered the courage to do morse code.
The drop down and climb out of Thornthwaite Gap would have been made much more tolerable if I'd had a couple of fast jets to entertain me. I've seen them take this route on several occasions recently from my view point on Queen Adelaide's Hill whilst doing lunchtime SOTA chasing.
Thornthwaite Beacon from Stony Cove Pike
Looking towards Ullswater from Thornthwaite Gap
Stony Cove Pike from the other side of the Gap
The punishing ascent
Thornthwaite Beacon
Thornthwaite Crag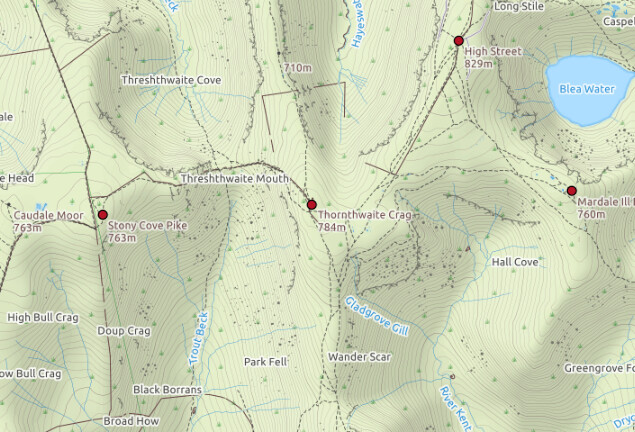 Good to get Sue in the log as first contact from this exclusive WOTA summit. The route I took meant passing this spot on the way back from High Street so I dug out the FT-817 for a few minutes to allow Douggie to work me.
High Street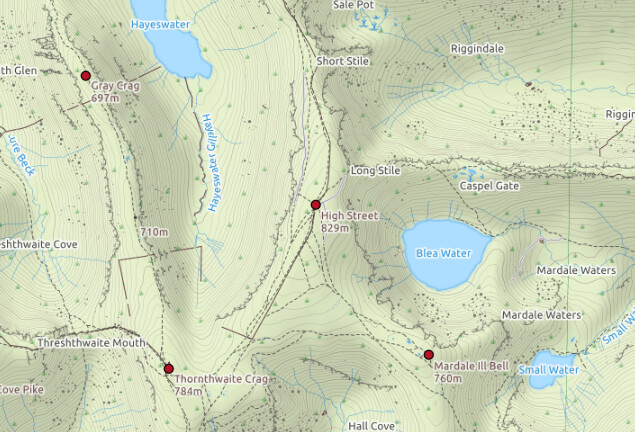 High Street seems fairly close when looking at it from Thornthwaite Beacon but this look is deceptive, indeed the summit from either direction is a constant seemingly never ending false crest. Despite the slog I love this summit, my 'field in the sky'.
I took the opportunity to fill the water bottle here from the trickle thatis the start of Hayeswater Gill, and ends up flowing into Hayeswater.
High Street from Thornthwaite Beacon
Ill Bell
Filling up from Hayeswater Gill
Hayeswater
Gray Crag
Trig Point with Ill Bell peaking in the distance
Whilst on High Street the Air Ambulance went over about 500 feet.
One of my CW Ops classmates S3IEI had messaged me to see if I was going to brave CW on this activation. I messaged him the frequency and called CQ. Having worked Stephen I was either spotted on SOTA Watch or someone noticed me and I worked a small pile up as best as my morse skills would allow!
Walking back to Thornthwaite Beacon
The Approach to Froswick
Froswick Summit
Froswick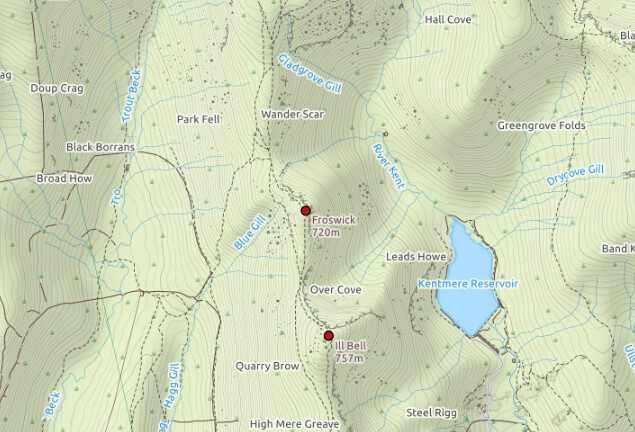 No spot required here, thank you to the chasers!
Ill Bell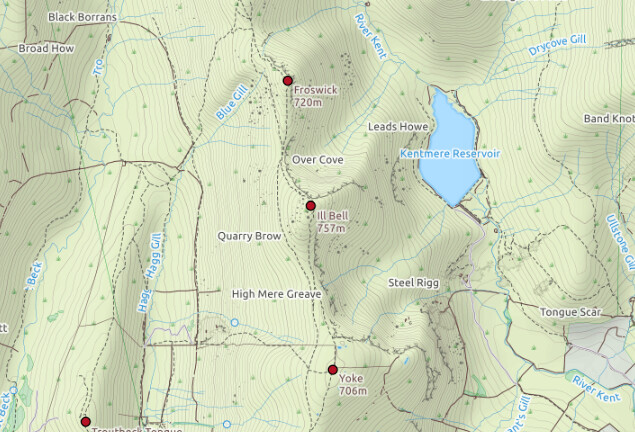 After working 2m I wanted to give the HEMA chasers the opportunity to work me on this summit on HF, however, through a combination of no phone service and my LifePo4 quitting on me I only managed one contact with Don on 80m using 2.5 watts!
I suspected one of my LifePo4's had been hammered too hard recently and this was confirmed with it finally quitting on me here.
One of the two impressive Cairn Stones marking Ill Bell summit
Two Cairn Stone piles on Ill Bell
Yoke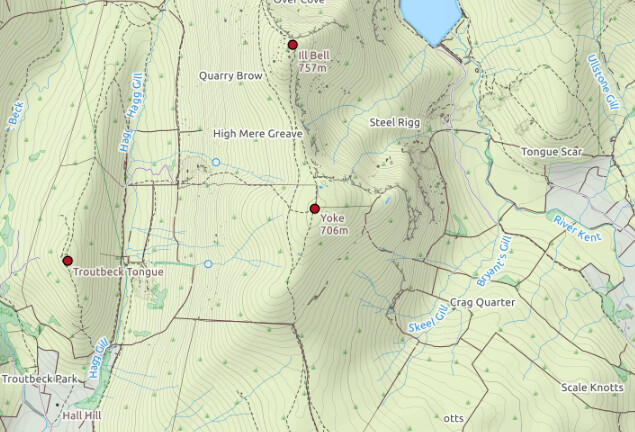 Yoke Summit
Kentmere Reservoir
Long walk down with Windermere in the distance
The final walk down to Troutbeck is a good two hours with sore feet at the end, but a fun combination of walking and radio thanks to everyone who makes this such an enjoyable experience by being at the other end of the radio!