Saturday 1-AUG-2020
The WX, family and Gods aligned for a magical weekend walking and playing radio in the Lake District. This is the second of three reports, Saturday afternoon.
Equipment
2m FM QSOs
RIG: Yaesu FT1XD
ANT: Diamond RH-770
MISC: Diamond SMA to BNC Adapter
PWR: 5w
HF QSOs
RIG: Yaesu FT-817ND
ANT: SOTABeams Quadband Dipole
MAST: Decathlon 6m travel pole
PWR: 5w via internal 1500maH NI-MI battery
All power connections standardized using PowerPole connectors.
Other
Logging: Rite in the Rain 4x6 Notebook and STAEDTLER Noris HB Pencil
Rucksack: Lowe Alpine Airzone Trek 45:55
Phone/Camera: Xiaomi Redmi Note 8T
Water 1 litre
Snacks: Trek High Protein Flapjack Cocoa Coconut bar and home-made scones, mmm…
Clothing: Marmot moisture wicking base layer, Regatta waterproof jacket, shorts, gloves, hat, extra layers.
Footwear: Salomon X Ultra 3 Prime GTX (still wet-ish from the day before!)
Safety
Strava Tracking

On Saturday Alex and I dropped Raine off at her place of work - The Old Post Office at Troutbeck (highly recommended, especially after a walk on Wansfell or in the area) - picking up drinks on the way to our destination for today, the horseshoe around Hayeswater.
We parked at the donation car park at the natural end of the road through Hartsop. There is space for around 15 cars and we were able to tuck on the end of a row - no mean feat at the moment in the Lake District!
Our walk initially followed the path up past the sheep sheds which were full of livestock pre- and post-shearing. My planning wasn't the best as I thought we may be able to sneak in Brock Crags or Rest Dodd. This resulted in us following the high path to the left towards the old pump house and turning too early up the easterly fell side towards Rest Dodd with some trudging through very wet foliage which wasn't welcome by either Alex or myself.
Much better to cross the river to the right and follow the main path up to the foot of Hayeswater, where there is a bridge you can cross for the ascent to The Knott. Eventually we picked up the Roman road. The walk-in took us about an hour, it probably would have been less following decent paths. Once on the Roman road you walk round the back of The Knott then veer right up to the summit - it only takes about 2 minutes for the final ascent.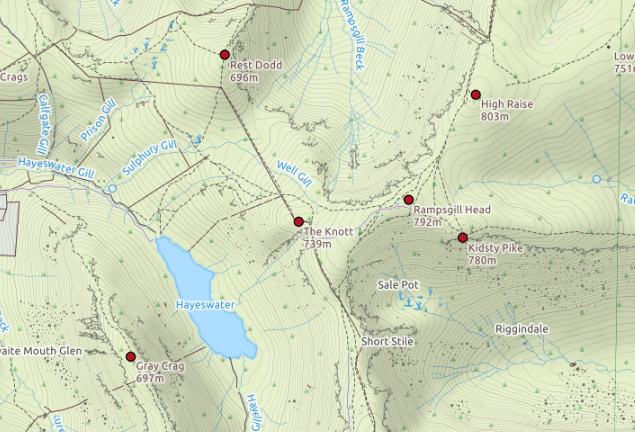 The Knott - looking towards Helvellyn
The Knott - with the ascent to High Street ahead
Great to get Geoff in the log first today and I deliberately moved up from 145.500 to help him with local interference. Also good to get SOTA chase with MW1HAX/P (who also spoke to the day before) activating GW/NW-005 Elidir Fawr - 924m a strong 59 both ways.
The Knott gives you a nice break between the initial slog up the side and the long, more dragged out trudge to the top of High Street. It is definitely a case of further than it looks and the benchmark doesn't come into view until you are within 100m of it.
Drag up to High Street
One of the redeeming things about the drag up to High Street is that you now get views down to Haweswater. I've done High Street several times but only visited Haweswater for the first time this year, and it still amazes me that it takes over an hour to drive there from Windermere, but is visible from High Street. We met a walker who had ascended from Haweswater - it looks like it would be a lovely walk.
View down to Haweswater Reservoir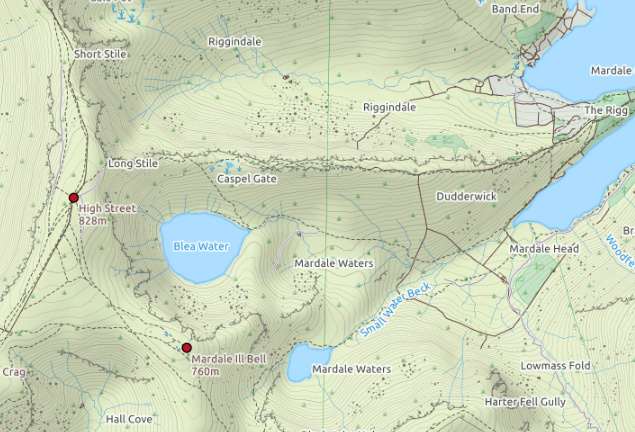 I love High Street. It seems like a field in the sky to me. A good feature is that there is a North-South wall to hide behind from the predominate Westerly winds (unless you're unlucky), one of the bad things is that mobile phone reception is patchy and you can easily end up doing the phone-dance to get a spot out there.
Alex at the Benchmark
For 2m obviously this isn't an issue and a good run of contacts were made initially on this band.
As you can see from the list above - just one contact on HF. Thankfully Douggie was able to spot me on HF, as I had no luck with the phone. As it happens I returned the favour yesterday with G4IPB/P when he had no luck with his phone either. I was on Queen Adelaide's Hill overlooking Windermere (a favourite lunchtime chase location) from which High Street is visible. After my spot he found a good number of chasers on 80m to qualify the summit.
Another factor in the quick-ish HF activation was Alex - she was suffering from the cold, even hunkered down behind the wall. August on a summit! So we set off for Thornthwaite Crag - our second visit in 7 days as we were here the week before doing Stony Cove Pike, Thornthwaite Crag, Frostwick, Ill Bell and Yoke.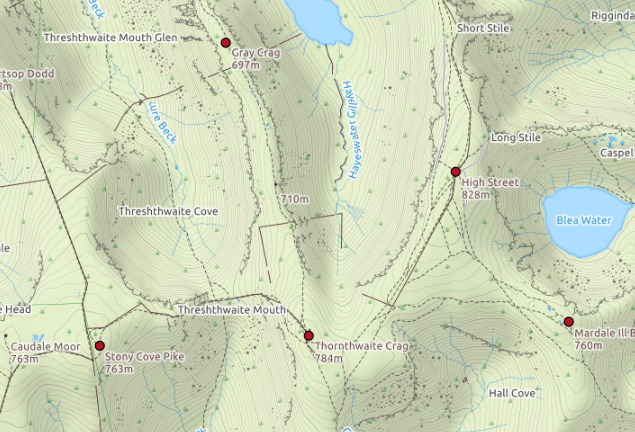 The impressive Thornthwaite Beacon, with Windermere in the distance
I spent four hours up here once doing RAYNET support for a fell running race, mostly in Southerly horizontal rain so I know, as impressive as the beacon is, it sometimes provides precious little protection when the wind is in the wrong direction!
Thankfully this visit was calmer, although the biting wind meant that there was no time to hang around. For some reason the blue skies were eluding us, even though there were lots of patches to the North, so it was a case of cracking on with the activation.
Another chase, this time Lee M6EVQ/P who was on Skiddaw with a group, I think he wanted a 30 second QSO with someone, not sure he went on to do an activation. Good to get Sue in the log here as we missed each other last week.
View to the North, from Thornthwaite to Gray Crag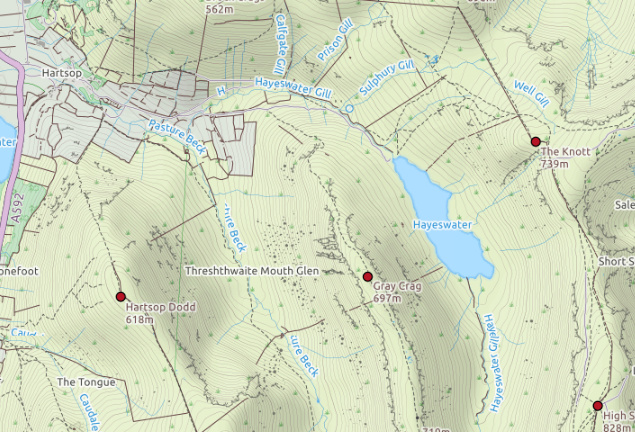 The walk to Gray Crag was very pleasant with a really impressive view to the North throughout.
The summit itself is a modest pile of stones - but look at the view!
Modest summit of Gray Crag
This time I got both Sue and Geoff in the log, and it has been a while since I was here. Last time was done in reverse, I couldn't find the path up and ended up scaling the side up from Hayeswater - not recommended in the slightest.
Initial descent from Gray Crag
Here is where you need to listen! Don't do this loop the other way round - the drop off from Gray Crag is absolutely magical, and for a minute you could be forgiven for feeling like you are on top of the world. I think Geoff had a similar experience to me in not finding the path up, and it is a steep one! On the way down take your time and soak in that Lake District magic, you may need to draw on it at some point!
Wonderful pinacle before the descent from Gray Crag
So concluded another wonderful day of fells and radio.
Mark M0NOM.