The WX, family and Gods aligned for a magical weekend walking and playing radio in the Lake District. This is the last of three reports, Sunday afternoon.
Equipment
2m FM QSOs
RIG: Yaesu FT1XD
ANT: Diamond RH-770
MISC: Diamond SMA to BNC Adapter
PWR: 5w
HF QSOs
RIG: Yaesu FT-817ND
ANT: SOTABeams Quadband Dipole
MAST: Decathlon 6m travel pole
PWR: 5w via internal 1500maH NI-MI battery
All power connections standardized using PowerPole connectors.
Other
Logging: Rite in the Rain 4x6 Notebook and STAEDTLER Noris HB Pencil
Rucksack: Lowe Alpine Airzone Trek 45:55
Phone/Camera: Xiaomi Redmi Note 8T
Water 1 litre (not enough again!)
Snacks: Trek High Protein Flapjack Cocoa Coconut bar x 2, Dark Chocolate, Bounty, Crisps
Clothing: Marmot moisture wicking base layer, Regatta waterproof jacket, Regatta trousers, shorts, gloves, hat, extra layers.
Footwear: Salomon X Ultra 3 Prime GTX (still wet-ish from the day before!)
Safety
Strava Tracking

With Alex off doing some temporary work as well as both girls at work I had an afternoon and evening to get out on the fells on Sunday.
Long on my list of targets are both Pillar and Haystacks, I chose the latter today partly because of the perceived state my legs were going to be in and also because the wind and cloud base were predicted to be a little on the testing side.
I drove to Honister via Keswick - having dropped Raine off at her place of work - The Old Post Office at Troutbeck. I decided to take the scenic route via Kirkstone Pass and The Struggle, thus bypassing the road between Windermere and Ambleside, as well as Ambleside itself, completely.
Apart from the usual traffic on Honister Pass - cyclists, motorbikes, cars and camper vans the journey was uneventful and I decided to pay my £5 parking to the Slate Mine, although it took a good 15 minutes to standing in an empty shop before I found someone to pay!
Having done Great Gable from this direction I had a good idea of what the initial climb out of the pass would entail, although this time I found the path up rather than the gravel mining road - not sure how I missed the signpost last time! The path was somewhat wet underfoot in places, but then we have had a fair bit of rain lately…
On the footpath up from Honister Slate Mine
First view of the ridgeline to come, from Drum House
On the way to Haystacks the view to the West gets more and more magical as the mountains and height reveal Buttermere and Crummock Water in their majestic setting.
Buttermere and Crummuck Water, with High Crag to the left
It doesn't seem too long before you are weaving your way up to Haystacks itself. I expected the summit to be higher, somehow. I've read this is Wainwrights favourite location in the Lake District, I suspect it is down to the views rather than the summit itself, although it does have a quaintness to it - with pretty tarns - that maybe juxtaposes the rather more rugged summits of Great Gable and Pillar.
Blackbeck Tarn
As you crest the summit the 360 degree views are a real treat for the eyes!
Innominate Tarn with views towards High Stile
Plenty of folk making this Wainwright Pilgrimage
Pillar at this point just looked awesome, with the sun highlighting the northerly slopes wonderfully. Later in the day as daylight faded it was to turn into a brooding giant, like something out of a Tolkein novel.
Pillar in the sun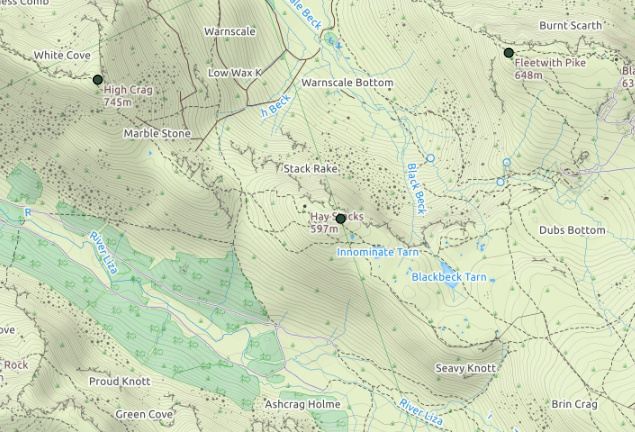 I suspected my first activation would be a struggle for the Southerly chasers, and that was confirmed by the list of chasers exclusively to the North and West who were able to reach me on Haystacks. @M7XUP Steve was portable activating Dale Head and Robinson - and we exchanged a few QSOs throughout the day, being pretty much line of sight. I had got him on Hindscarth on the way up to Haystacks and we achieved a WOTA S2S on High Crag.
In order to reach my next summit, High Crag, I had to descend the westerly side of Haystacks to Scarth Gap. This requires some boulder negotiation, but if the 5 year old coming in the other direction in wellies was anything to go by, nothing too complicated!

Scarth Gap
The gap joins Gatesgarth with the Ennerdale valley and I spent a rather nasty three hours here once doing RAYNET event support. Another horizontal rain situation where I learnt that there is no point in looking forward to a hot drink from a JetBoil if you attempt to light it with standard matches (Swan Vesta no less). Aftewards I was straight to James at Stuart Sports in Bowness to purchase a windproof lighter!
Scarth Gap, looking from Haystacks towards High Crag
So it was quite a joy to descend in the sunshine to the gap and then follow the staircase up the other side to High Crag on this occasion, having seen neither side on the last visit!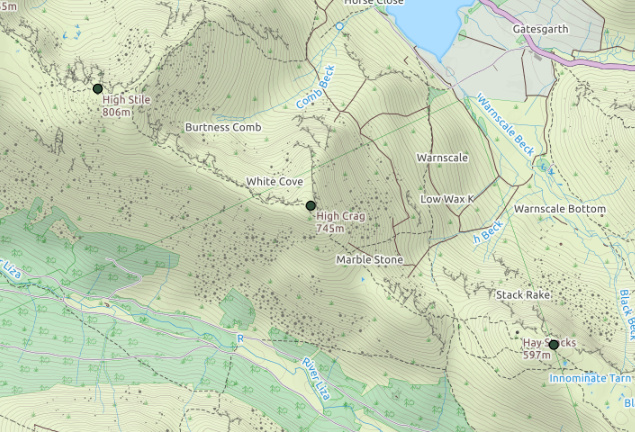 High Crag involves ascending twice - the first a staircase but boy does the second ascent looks menacing, especially with tired legs. I can say that a strip of dark chocolate definitely helped me tackled this ascent! As it happens the scary looking twisty path is actually a nice stone staircase on the steeper section, although the top then turns into scree which is less of a problem on the way up than the way back.
First ascent from Scarth Gap completed
Pillar
The second ascent to High Crag
Fleetwith Pike looking very sharp from this angle!
High Crag cairn stones with Pillar in the background
At this point I could hear Chris M0KPW in Ireleth calling Steve M7XUP/P who was now on Robinson to no avail. This seemed quite strange as Chris was a good 59 signal with me, but then radio and mountains are a funny combination!
The extra height afforded by High Crag, and more Westerly aspect, meant that I got a good combination of chasers now from all directions. Of note was my WOTA to HEMA contact with good friend Mike 2WE0YYY/P who together with Rob GW7LAS/P was activating the North West Wales HEMA summit GW/HNW-044 - Moel Fodiar. I've been doing a few more HEMAs in the Lake District recently - they often coincide with Wainwrights so it is great to get points in both schemes.
At this point Steve M7XUP/P and I had our WOTA to WOTA S2S whilst he was on Robinson LDW-067. As can be seen from the map below it is fully line-of-sight between the two and I could just about make folk on the summit - presumably Steve and his lads.
S2S with M7XUP/P on Robinson
Also of note was a call from Dan GD0VIK/P who was on the SOTA summit GD/GD-005, Mull Hill on the Isle of Man. I have done a few SOTA and HEMA summits on the Isle of Man, as the company I work for is based there, but Mull Hill is still on my list.
And so on to the final ascent to High Stile, a nice gentle ascent along the ridge line with fantastic views every step of the way!
Gentle ascent to High Stile
There were a few scary places on the path, fine in good visibility but a bit close to the edge in places if you were scratting around in the clag!
Steep drop offs to the North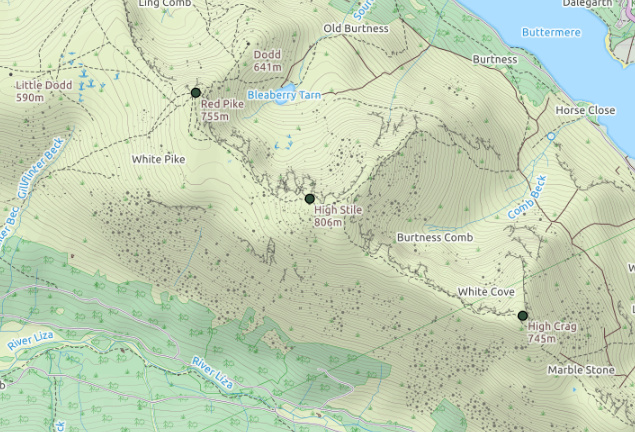 The summit of High Stile is a fairly rocky affair with a couple of Cairnstone piles vying for the top spot
Rocky summit of High Stile
Wonderful views to the West from High Stile
Biggest pile of rocks
View towards Red Pike, saved for another day
I placed myself next to the largest pile of rocks for the 2m FM activation. First in the log was my final chat with Steve M7XUP/P who was now on his way back to Honister Pass. I was also called by Graeme M0OAT/P from G/LD-004 Skiddaw for a SOTA & WOTA S2S - he mentioned that he had been up Helvellyn earlier in the day too!!!
This time, again, there was no issue getting the regular chasers from all directions too.
2m FM Activation
HF Activation
For HF I moved a little away from the cairn stones and tried to setup slightly out of the wind. Given my poor run of HF activations recently I didn't anticipate this being much better, especially as Mike 2WE0YYY/P had commented earlier that the HF bands were in pretty poor shape. However, as it happens it was much better than expected, although I had to run up the summit towards the North to get a mobile signal from my HF setup and had to re-spot myself a couple of times because the frequency was pounced on whilst spotting!
HF Location
FT-817 deployed!
Manuel EA2DT once again proved just how amazing how he is as a chaser being first in the log again, and indeed the only 20m responder! He did however get me with a better contact on 40m. I was glad I took the time to drop to both 40m and 80m and it was especially nice to respond to Richard's G3UDI CQ call as he knew exactly where I was and was really happy to chat to me.
Note the yellow LifePo4 2400mAH battery in the picture. I was to find this was doing nothing whilst connected to the FT-817. The battery meter was dipping during SSB QSOs consistent with the internal battery's higher resistance. Upon investigation I found the powerpole connector in the 3D printed adaptor attached to the back of the FT-817 had pushed backwards into the housing and clearly wasn't making contact.
A job for the Swiss Army Knife I thought. Alas, the bolt holding the adaptor on has a hex key, scuppering any attempts to fix on the hillside. At this point I conceded anyway that it was probably high time I packed up!
Having packed up the time was now 18:30 and i was no longer able to put off thoughts of the long journey back, and how my legs would fare!
Start of the return journey
I had contemplated earlier dropping down from Gatesgarth via Scarth Gap if my legs weren't up to the ascents again, but thought better of it as the easiest route was must surely be to return the same way!
Evening sun reflecting off Ennerdale Water
Clouds now skirting Pillar
The descent to High Crag
Ascent back up Haystacks
Once over Haystacks I just decided to go into feet preservation mode as my toes were now getting quite sore. I had daylight all the way back to the car however. There were a couple of folk coming the other way obviously for a wild camping experience.
Last view of Buttermere and Crummock Water
Top of the last ascent, before dropping down to Honister Pass
The drive home in the dark was wonderful to start with, but as I hit Ambleside the rain started and by the time I got back to Windermere it was in full fettle. You see, sometimes good weather does coincide with hill walking after all!
I'd like to say a big thank you to all the chasers without whom the radio experience would be nowhere near as fun. In straight comparison with Steve, it was radio that got me walking the fells so I am very grateful to have discovered the hobby. Wainwrights on the Air is a brilliant programme that has been the key unlocking the magnificent Lake District fells for me!
Best 73. Mark. M0NOM