8 Bannisdale WOTAs
Last year, I planned two multi-WOTA trips but postponed them both due to covid lockdowns, etc. On Monday 22nd November, I intend to walk the horseshoe of Outlying Fells in Bannisdale (north of Kendal). The parking is only about thirty-minutes' drive from home but as there are eight of them, that makes for a long day out, so I wanted to do them ASAP before the days get any shorter.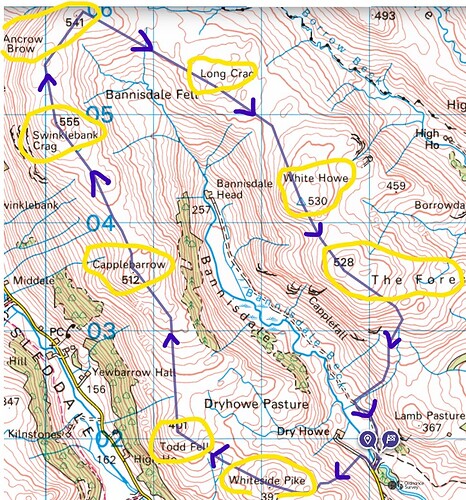 Walking them in clockwise order, they are LDO-050 Whiteside Pike, LDO-048 Todd Fell, LDO-020 Capplebarrow, LDO-008 Swinklebank Crag, LDO-011 Ancrow Brow, LDO-028 Long Crag, LDO-014 White How and LDO-016 The Forest.
With sunset about 4pm these days, I need to start walking about sunrise (8am) to walk the circuit and have about 20 minutes for each activation. So, that means 2m FM only. From previous WOTA walks (e.g. in the Shap Fells) I've found that some 2m chasers have difficulty getting signals from activators especially from the smaller summits, so I'll be taking a J-pole as well as the usual Diamond RH-770 ½-wave telescopic whip. The rig is my trusty Yaesu FT1D 5W HT.
Weather forecast is cold but dry so it should be a good day out for me and my usual companion, Bella, a 7-year-old female Cocker Spaniel. Hope to work many of you then. I hope someone is awake for my first activation around 8:45am.
73 Andy G8CPZ