A WOTA a day keeps the blues away (Maybe)
Well, for two out of four anyway – two of the walks were a bit of a disaster.
Thursday 18th. August – LDO-104 Finsthwaite Heights
As on previously occasions I started by St. Peters church in Finsthwaite village and followed the public footpath north but branched off just before High Dams tarn on paths going SW and S to the summit (yellow route on map). The path was overgrown with ferns in places and indistinct.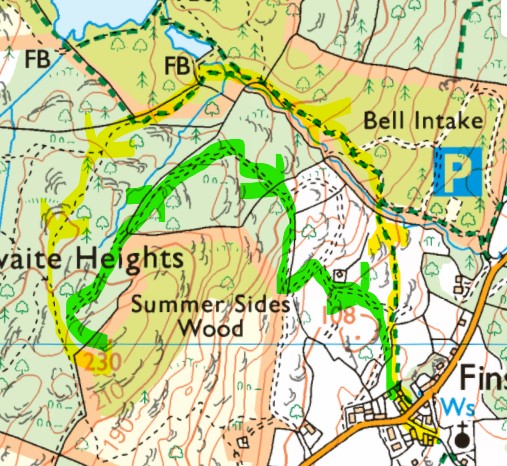 (C) Crown Copyright - Ordnance Survey 2022
Finsthwaite Heights summit is a disappointing affair, much overgrown with high ferns and surrounded by trees which mask any view though no doubt it was better in Wainwright's time. The summit had so overgrown since my previous visit that I couldn't get the last 5m this time, not that it was any better than the big rock I sat on nearby.
Drizzle was becoming more persistent as I activated the summit to get three 2m FM chasers. As last time, I took a slightly shorter [easier and more open] route (green on the map) back to the village.
Friday 19th. August – LDO-097 Newton Fell North
I'd had trouble getting to the summit on my previous activation so, for a change, took the public footpath from the holiday homes park (yellow route on map) roughly north. Nice at first, it became difficult due to high ferns which had overgrown the path – indeed this became a theme for the rest of the walk. I crossed two walls at the northern boundary to go a largely fern-less way SE to the summit.
(C) Crown Copyright - Ordnance Survey 2022
A quiet activation – just two 2m FM chasers including GW4TQE/P on a GW/NW SOTA summit.
I tried to follow my previous route SW in an attempt to pick up the zig-zag path shown on the OS map. I ended up going down a very unfriendly steep descent that led me into an impenetrable barrier of thorny briar bushes [all with my poor dog on a lead] so I had no choice but to retreat back to near the summit area.
I then bushwhacked NW (red route) through tall wet ferns following an indistinct path for half an hour or more with my dog's long lead constantly getting entangled in tall wet ferns. In the end [on a steep descent in ferns] I let her off the lead. But we got separated in the fern jungle and I lost her. Very distressing. I was calling for 20-30 minutes. One has visions of never seeing the dog again or their being killed by a car. She found me much lower down when I had hacked my way down to the public footpath. Not a happy experience and I doubt I'll be walking Newton Fell North again.
Saturday 20th. August – LDO-116 Humphrey Head
After the distress the previous day of losing the dog [albeit temporarily] I fancied an easy low-risk summit walk. What better than Humphrey Head which has the distinction of being the lowest height Wainwright – at 53m ASL – and the most southern one being located on a narrow peninsular projecting into Morecambe Bay a few miles SW of Grange-over-Sands.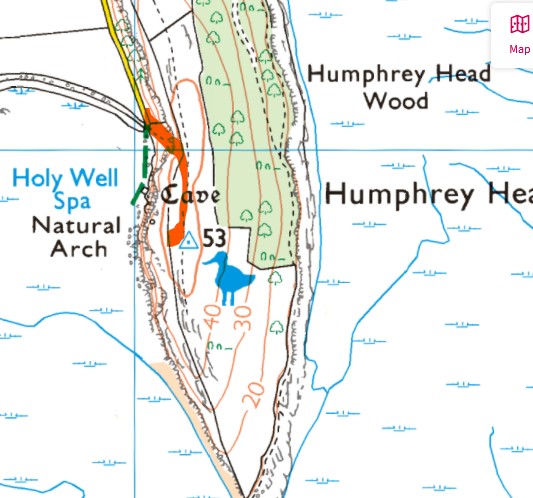 (C) Crown Copyright - Ordnance Survey 2022
Sometimes I have parked further north near the outdoor pursuits centre for a longer but gentler route to the trig point. This time I drove to the end of Holy Well Lane and took a short but very steep rocky path up the side of the cliff needing a bit of scrambling (and giving the dog a leg up), which was fine as it was dry but not recommended when wet. From there it's a short stroll to the trig point.
As it was very windy, I set up on the leeward side of some bushes with my roll-up J-pole on the 6m pole, the top of which was bending a lot in the wind. But we were snug and comfy sat on the grass out of the wind. Five 2m FM chasers.
Sunday 21st. August – LDO-084 Staveley Fell
This is another summit walk that proved tricky on my previous activation where I tried to follow a route published on the http://www.wainwrightroutes.co.uk website.
(C) Crown Copyright - Ordnance Survey 2022
I started from Staveley-in-Cartmel and it's a pleasant easy walk on the public footpath and forestry roads (blue route on map) until you have to bushwhack north into the Chapel House plantation. I turned on GPS route tracking on my OS Maps app at this point (red on the map) and you can see about three attempts to find a path or even a walkable way north.
An ATV would have been better than walking in shorts and shoes in this boggy jungle. I got lots of scratches and a few cuts on my legs before giving up and retreating to the forestry road. I decided to follow the forestry road (NE and N) to see if there was a walkable forest 'ride' but nothing. I was about to give up and declare it a failed activation when Lo and Behold, I spied a good path and heading up (green circle on map) and once on it, heading towards the summit.
Once at the summit (big blue dot) there were fine views all around including the southern end of Lake Windermere and nearby Gummers How.
Had a nice activation (with nine 2m FM chasers) in pleasant weather. I took a risk and followed another path this time going south in the hope it would be quicker than the way I had come. It weaved between ferns all over the hillside (red route on map) - going SW, W and S - fortunately eventually back to my original route.
Even Wainwright berated his route bushwhacking to the summit of Staveley Fell. It's much harder work for lesser views and summit height than nearby Gummers How.