Today I took delivery of a second hand Super Antenna. It is a vertical antenna that can cover 6m to 80m in the configuration I received (it can also do 2m with an extra element, but I'm not seeing why I'd need that right now).
At lunchtime I took the antenna bag along with an FT-817 to Queen Adelaide's Hill, just two minutes ascent from Millerground (technically Rayrigg Meadow) car park but with great views up and down Lake Windermere.
I set the antenna up initially for 17m knowing that conditions have been good over the last couple of days. This involves using the frequency guide to set the position of the loading coil and attaching the 10/12/15/17m counterpoise wires (one wire for each band). Although I did receive a 'proper' tripod with the kit, I only took the low-profile one out for this test.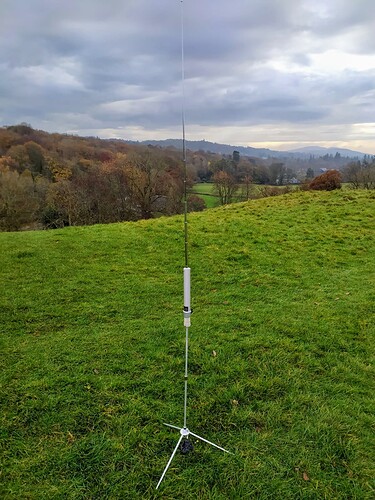 Super Antenna in 17m configuration
I heard Charlie 9H4CM calling from Gozo Island, Malta. He was a strong 58 but with some QSB taking him down to 51. I tried to break the pileup, but didn't manage it.
Nigel M5TUE then said he was in the shack so I wondered if I could get my first 6m QSO (well, the first using my own equipment) so deployed the antenna with no loading coil and plugged in the 6m counterpoise.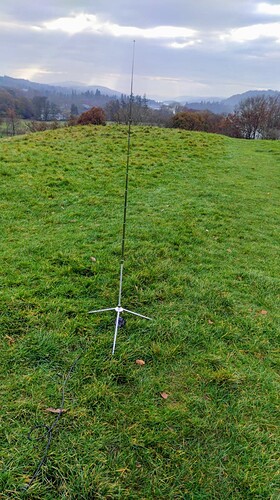 Super Antenna in 6m configuration
I had good clear copy from Nigel on 18.135 Mhz SSB, who lives near Lambrigg fell. He was using 30w from an FT-897 and tuned up his HF antenna. He could hear me on 5w just fine.
Afterwards I reset back to 17m and came across Steve KA2ABA on 18.115 Mhz with strong 57 copy. After a couple of attempts he came back to my /P /QRP SSB call and we had a great chat for a couple of minutes with no issues whatsoever. If you want to listen in I have a recording of the QSO.
First impressions of this antenna: very impressed! I was expecting to need the FT-857 with some power to be heard. Although not as light as carrying my SOTABeams Quadband dipole and mast it is certainly a much friendly footprint. I've always loved the idea of having a vertical, and will at some point attempt pedestrian mobile now!
The recent addition of the SOTABeams Compressor to the FT-817 also seems to be working nicely - I measured an increase from 3 watts to 4.5 watts talk power with the compressor inline during an SSB test - no mean achievement given my propensity to shout in the first place!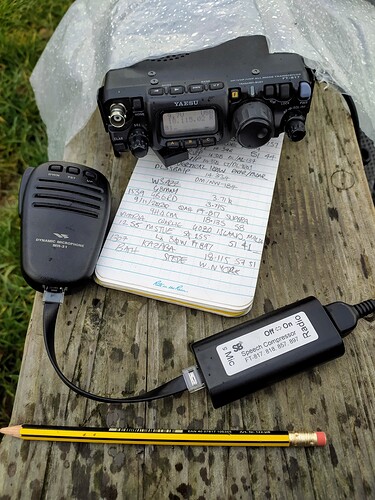 KA2ABA in the log on 17m
| KA2ABA | |
| --- | --- |
| Grid Square | FN12ih |
| Geo Source | User supplied |
| US State | New York |
| US County | Steuben |
| Bearing | 288.0° WNW (from M0NOM) |
| Distance | 3349.6 mi (5390.6 km) |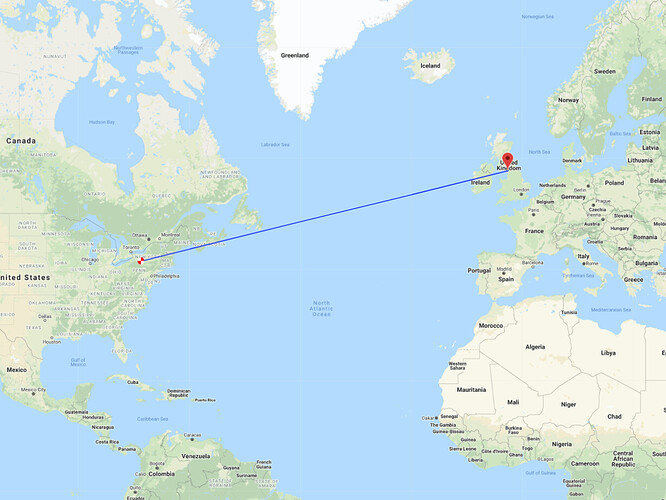 Regards, Mark. M0NOM.