Grisedale Pike LD-015 Sat 17th Sept 2022.
I asked Reg 2E0LDF if he would like to join me on a walk up Grisedale Pike for LD weekend and he very kindly said yes. We met a few hundred yards past the Whinlatter visitors center and parked on the road side as it is free. The other car parks are pay and display. Where we parked there is limited parking but we had no problem at that time of morning.
I set off from home in Annan at 0750 hrs local and soon after that I worked Matthew M0MZB/P who was still on High Raise LD-019. As I was approaching Gretna bypass I worked Mark M0NOM on High Street as GM4WHA/M and finished with him as G4WHA/M as I had crossed the border then.
I arrived at the parking place just after 0900hrs local and after getting ready etc we set off at 0913hrs local for the walk up Grisedale Pike. After taking a slight diversion in the forest we started the ascent in earnest. It is steep but the views were superb. As the last 3 walks I did with Reg were all in horrendous conditions today was the total opposite. Absolutely clear as anything. I waxed my boots the night before just in case!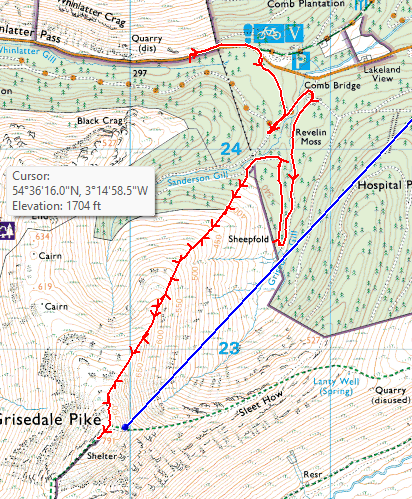 GPX track from car parking to summit of Grisedale Pike.
On our way up we worked G0WPO on Blencathra LD-008, G6PJZ ON Helvellyn LD-003, G0EVV on Stoney Cove Pike LD-018 and G4VPX on Hallin Fell LD-043. We worked them all again from the summit to get Summit to Summit contacts.
We arrived at the summit at 1110hrs local and set up our respective aerials. Over the course of the next 2.5 hours or so we made 37 contacts including 21 summit to summit contacts. We also had a summit to summit with G1ZAR/P who was on Skiddaw on 23cms as well as 2m so we were pleased at that.
Best DX we had was with EI4JY/P who was operating from the summit of EI/IE-015 Slieve Foye which is near Carlingford. The distance was 202 kilometers. We had contacts into North Wales and Southern Scotland as well as up to a station near Glasgow.
On the way down we worked 2E0RWX/P on Gummers Howe LD-050, G4IPB/P ON Kirk Fell LD-014, G0TRI/P and M7KAZ/P who were both on Hutton Roof Crags LD-052.
We had a great time and got back to the car at about 1500hrs local.
My Summit to Summit log for Grisedale Pike.
Thanks to all chasers and especially Reg 2E0LDF who came with me.
73's Geoff GM4WHA