This is a belated report as it covers my activation of Hampsfell LDO-108 on Sunday 12th September.
I was in the Lakes primarily for the SOTA weekend and the previous day I had activated Hutton Roof Crags but for the Sunday I thought I would try a Wainwright for a change.
Where I live in Devon there is very little activity on 2m FM but of course in the Lakes it is very different and 2m is almost the default band I think. I had used 2m of Hutton Roof and would use it again today.
The choice of Hampsfell was an easy one as my wife and I were staying in the Caravan and Motorhome Club site at Meathop Fell near Grange Over Sands. I had left my wife the previous day in our campervan after driving to Hutton Roof but I didn't want to do that again so I needed something within walking distance of the site. So Hampsfell it had to be.

Wainwright's description of the ascent of Hampsfell starts in Grange Over Sands but I was coming almost from the opposite direction in the east. The footpath starts near the site at Low Meathop farm then crosses fields to the village of Lindale. After wriggling through the village another path, steep in places, took me to Hampsfield farm were I turned left and followed the path south along the edge of Eggerslack Wood. The point to turn off this path is well marked. As an aside Hampsfield Fell was the original name of this summit.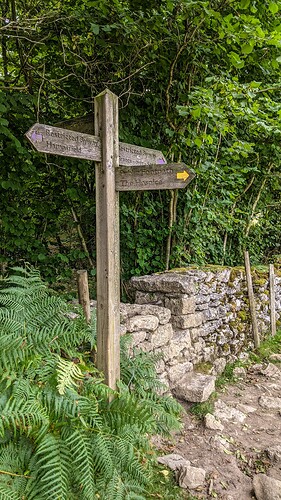 There are at least a couple of paths across the fell from here to the summit, which is crowned by a small stone building known as the Hospice. Sadly I neglected to photograph it. This was because it had lots of people on its flat roof when I arrived and I decided to wait until they had left before taking a photograph - which was a sound plan had I remembered to do this before I also left!
My radio today was not my normal IC-705 but the handheld Yaesu 65e with an RH770 antenna.
My first contact was with M0KPW/P who was on the SOTA summit of Kirby Moor. I then put up a spot on the WOTA website and after a pause called CQ. I was very pleasantly surprised to get a reply straight away from Dougie G7CDA who said he had seen the spot. David G6LKB, followed then Sue G1OHH and Miek G1PIE.
Things then went a little pear-shaped when two people started talking about their hospital appointments on my frequency but I had done enough to say I had ticked off my first Wainwright.
I kept the radio on while walking back, after fitting the stock rubber duck antenna and managed a quick QSO with M0EMF/P on the summit of Gummer's Howe.
I enjoyed perfect weather and overall it was a most successful morning, less the hospital appointments! :slight_smile