I found a way to get a notification when a new spot is added to the WOTA site when using a desktop computer or a tablet that runs the Chrome web browser, rather than constantly having to check for spots manually.
It relies on the Distill Web Monitor plugin.
The first step is to install the plugin from the Chrome webstore page.
Once installed you will have an additional icon to the right of the URL bar. The icon looks like a drip of water:

What we are going to do is tell the Drip Web Monitor to check the spots list on your home page for changes.
Click on the drip web monitor icon and select: 'Select parts of page' in the Add Monitor column: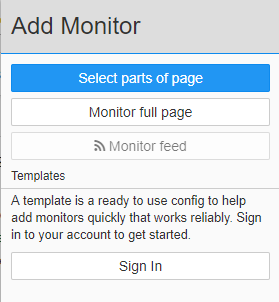 Click on the text 'No spots for today' or the date/time of the first spot in the list. Click in the 'Selected' XPath box and delete text at then end until it reads: //div[@id='spots']

Click on 'SAVE SELECTIONS':

You will then see the Options page for this monitor:

Use the slider next to 'Schedule checks' to pick an appropriate interval, I have mine set to 1 minute. Then you can add actions such as buzzers, popups or emails. I have a buzzer go off when someone spots.
When you are done click the Save button at the bottom and you are good to go.
In order for this to work you have to have your Chrome browser open. You don't need a tab with the WOTA site open, the plugin will open the page and check automatically.
The plugin will be added to Chrome on each of your devices, but I think you still need to add the WOTA site monitor on each device.
Mark.