I was delighted to complete the activation of 214 Wainwright summits yesterday, and thanks to those sending congratulations. For the record, here's a pic from my last top: Harrison Stickle, Langdale.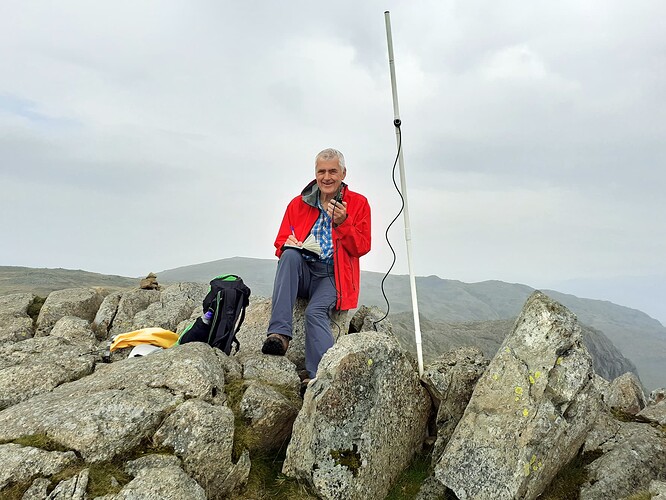 I claim the record as the slowest completer of the 214! That's not to say others aren't on an even slower trajectory, but I did start in May 2010, on a day that I took a handheld on a walk up Helvellyn. I was surprised to find 12 stations were keen to contact me, including one I also contacted on my last top: Sue, G1OHH. After Helvellyn, I thought I'd better join the WOTA scheme, and over the 11 years I have worked my way through the lot, and a few Outliers.
I must thank all the Chasers who made my activations possible. Too many to name individually, but you know who you are.
I should note that WOTA isn't about completing all 214 tops. It's about getting on the fells and having some radio fun. This was the intention of our founder, the late Julian Moss, G4ILO. He did us all a great favour in getting WOTA set up, and was quite surprised how the scheme took off. I think he assumed that most contacts would be on 2m FM, and most (not all) of mine have been on 2m, including quite a few with Julian himself, early on. 2m hits the sweet spot in enabling reasonably distant contacts with least gear while finding a balance between radio and fellwalking. Nowadays many (but far rom all) of the Lakeland activations have been SOTA inspired, which brings a slightly different emphasis, including pretty impressive HF activity. But all mine have been WOTA-inspired (although I do try to log SOTA contacts on the SOTA database as well).
In reflective mode, I must comment on the stunning work done by Alfred Wainwright in producing his guides. WOTA friends will be familiar with these, I'm sure. The longer I explore the Lakeland Fells, the more I am in awe of AW.
A few more points - looking back, I averaged about six (2m) contacts per top as an Activator. I have generally be walking with others, so can't hang about too long, particularly in winter activations. On at least two occasions I have only managed a single contact (thanks, John). Working my way around the Lakeland Fells has been a theme over the 11 years, and has been a great motivator to get out and around the fells while lots of other things have happened in my life. Strange thing, though, when I got to 211, I hesitated to go for the last three. Maybe I didn't want the journey to end.
I'll do more Lakeland activations, probably on 2m and and maybe with my portable Yagi to help things along. Catch you further down the log.
73, Phil