Scafell Pike LDW-001 (SOTA G/LD-001) and Scafell LDW-002 (HEMA G/HLD-044) – 10th. September 2020
I've wanted to walk the Scafells since moving to Cumbria last year but there never seemed to be a right time (either the summit's far too crowded or weather too adverse for me). The compromise was to activate this month now that the main tourist activity was less frantic. I started from the National Trust car park at Wasdale head. I didn't even know a visitor centre was there until I arrived.
A woman in a National Trust polo shirt pointing at a map board outside the centre entrance was advising half a dozen walkers not to go via Mickeldore [as I had planned] but instead to take the Lingmell Col route to Scafell Pike [described by Wainwright in his Southern Fells book as a dull, uninteresting grind]. So, I asked her, Why not? She said because some teenagers had to be rescued yesterday when they got lost at Mickledore. Apparently, the BBC had been there going interviews. She said, recently people have needed to be rescued almost every other day.

It took me two hours from the visitor centre to the summit of Scafell Pike via Mickledore. The only relief from the steady plod was 1) crossing Lingmell Gill [there is no bridge so you need to wade across or try to step on boulders - three volunteers mending the stone pathway told me the gill becomes impassable after heavy rains] and 2) ascending the steep scree gully up to Mickledore. It's easy to miss the less-used faint path to Mickledore at a Y junction on Brown Tongue [I did].
As Wainwright says, it's an exaggeration to call the route from Mickledore to the summit a 'path' – the whole area around the Pike is a vast carpet of stones, rocks and boulders and the path has to be imagined between the frequent cairns that mark the route.
The huge cairn at the summit was topped and surrounded by people especially on the sheltered leeward side. So, I found some modest rocks a short distance away to set up a roll-up J-pole on a 2.8m pole to my FT1D 5W HT – but not well protected from the cold wind. I hardly looked up whilst activating and worked a pileup most of the time. I got 24 contacts including 5 SOTA S2S's and 1 WOTA S2S.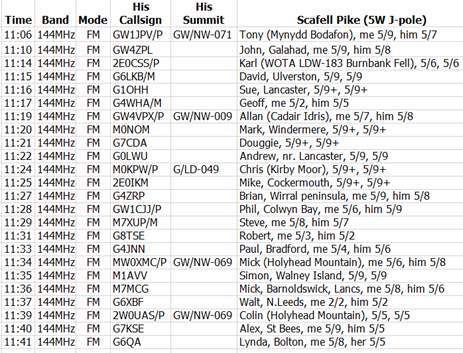 The weather forecast had said "5C but feels like 0C" at the summit. I was sweating on the ascent wearing shorts and tee-shirt but after 40 minutes of activating, I was getting cold [and a bit brain dead on logging callsigns correctly] even in my full winter clothes.
I agree with Wainwright, there are much better views from other summits so with people all around and the mist and low cloud, I didn't bother taking photos but ate some food quickly and set back down to Mickledore en route to Scafell.
Anyone wanting to see photos of my route can see what it would be like on a dry, sunny warm day, here …
http://www.wainwrightroutes.co.uk/scafellpike_r1.htm
Once back at Mickledore Scafell Crag loomed in front and any sane walker must go via a long diversion to circumnavigate it to the summit of Scafell. I descended to the left into Little Narrowcove towards the River Esk before ascending again up a long steep rocky gully one must share with a gill. This is serious both-hands rock climbing requiring careful footholds on wet rocks especially with a heavy rucksack. At the top of this gill-filled ravine (near Foxes Tarn) is a steep scree path leading the summit of Scafell. By this time, I was tired and my legs felt like lead.
Scafell was much less crowded and I had a small low stone shelter to myself near the summit cairn. Being quite tired I wanted a quicker activation so used my Diamond RH-770 ½-wave telescopic antenna with the 2m HT. I got 15 contacts in 22 minutes including 2 WOTA S2S's and a non-qualifying SOTA contact.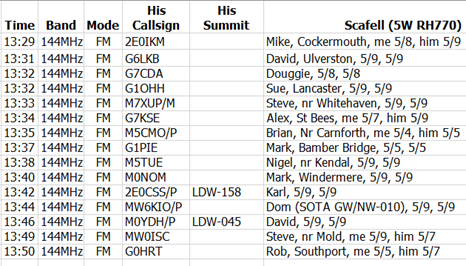 I decided not to risk descending the gill-filled ravine - it's always harder to find those footholds looking down - so I took a more direct but longer route westward from the summit down a long scree path then an even longer grassy route (in a bleak featureless area called Green How) towards Wast Water [see map above]. During this long and tedious steep descent from Scafell – now after 5 hours of walking - I got cramp in my thighs and needed to take a rest.
The long descent ended on meeting a bridle path that goes back to the NT visitor centre. After 6-½ hours walking and activating the Scafells my wife's homemade blackberry crumble that I had left in the car tasted heavenly.
73, Andy