Introduction
The Langdales is often described as a mini Lake District and it is easy to see why it is so popular with walkers. The forecast this Saturday was no rain, around 12 degC maximum with a cold Easterly wind around 20 knots on the summits.
You get a lot for your money here - the initial ascent is broken into two halves if you follow Stickle Gyhll, firstly to Stickle Tarn, and then a further ascent to either Harrison Stickle as the first Wainwright, or Pavey Ark. All of the Wainwrights here are a fairly easy walk once you have made the initial ascent, which makes for a very productive day in terms of WOTA bagging!
I had intended to follow the route around Pavey Ark straight to High Raise, but actually it is so close it is pointless not to do it.
The Main Langdale Wainwrights
Equipment
2m QSOs
RIG: Yaesu FT-817ND
ANT: Spectrum Communications Slim-G
PWR: 5w via internal battery
Case: PowerPort WorldPouch for FT-817
HF QSOs
RIG: Yaesu FT-817ND
ANT: SOTABeams Quadband Dipole
MAST: Decathlon 6m travel pole
PWR: 5w via ZIPPY Compact 2100mAh 3S1P 30C LiFePo4 Pack
All power connections standardized using PowerPole connectors.
Other
Logging: Rite in the Rain 4x6 Notebook and STAEDTLER Noris HB Pencil
Rucksack: Lowe Alpine Airzone Trek 45:55
Phone/Camera: Xiaomi Redmi Note 8T
Footwear: Salomon X Ultra 3 Prime GTX
Water: 750cl taken, approx. 2 litres consumed in total.
Water Purification: SAWYER PRODUCTS SP181 All-in-One Squeeze Filter
Safety
Strava Tracking

Parking in a dedicated motorbike bay!
First use of the water filter at the outlet of Stickle Tarn. Top tip - collect the water, then move to safe distance when transferring water to bottle. I managed to drop the filter in the stream, could have easily resulting in a single use item!
The filter worked great, water tasted great, it took about 5 minutes to gently squeeze 750ml from the filter bag into a bottle.
Squeeze Filter
Pavey Ark
Harrison Stickle, Stickle Tarn dead calm!
Wild Campers packing up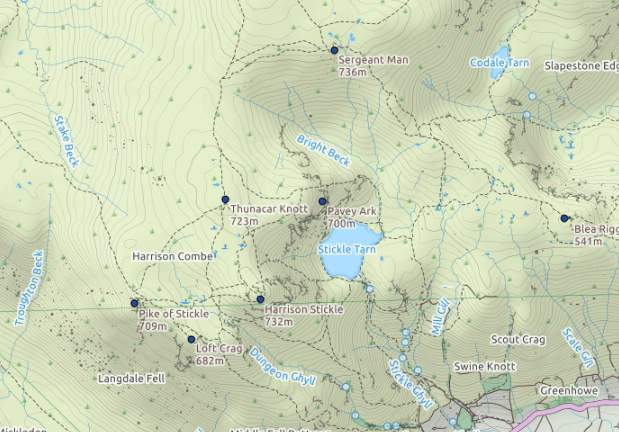 Stickle Tarn from Pavey Ark
Panorama on a stunning day!
What can I say about this set of QSOs! All fairly standard to start with, with Mark G1PIE proving to be an excellent chaser, I hope he is a regular. Then tropo kicked in and I got G0BUB in the log Mick from Grantham! Bearing in mind I'm using a roll-up SlimG and 5 watts he gives me a 59, wow! He was 55 with me. Mind, his 9700 and 10 element beam might have had something to do with it.
Whilst reeling from that DX I then get F5RZC in the log! Unfortunately he isn't on QRZ.com but he did give me his Maidenhead locator as JO10AR:
2m FM contact into France
Wow!
The walk to Thunacar Knott is very quick, but a little zig-zagging is required to avoid the fell-top bogs.
Derek 2E0MIX thought this was the weird one, and it is, not really a summit more a hillock with a few piles of stone strewn around. Still a pleasant enough spot and another good set of contacts, although no DX this time.
Thunacar Knott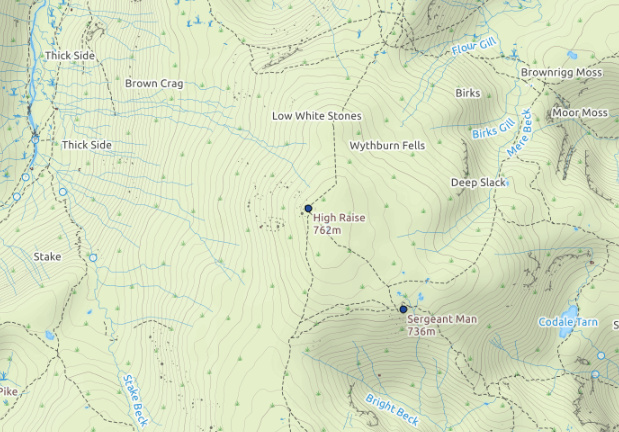 The SOTA summit of High Raise is a little non-descript too, although we do have a trig stone and a summit cairn horseshoe which allowed me to get out of the wind whilst doing my VHF activation.
Trek up to High Raise
Good views to the West
Actually I was a bit harsh about this summit last time, but it does have good views all around, just maybe not the drama of some summits where there is a steeper drop off.
First in the log was M1EYP/P on SOTA G/SP-004, then Geoff, then EI6FR/P on EI/IE-005 - good contact considering the range of mountains in the way to the West.
G7WKX/P could have waved at me from Crinkle Crags, a very easy WOTA S2S!
What followed was 14 S2S contacts on all bands, only afterwards did I discover that there was a SOTA European S2S event on, makes sense! FT-817 setup once again proving that even S2S don't require any more power when the bands are favourable!
Of note was my contact with GM3CWI/P - Richard from SOTABeams, I recognised his voice not the callsign and this was a vertical to horizontal SSB QSO that happened purely because I dropped to 144.300 SSB just to see if anyone was about. He's now touring Scotland, was on his way to Mull of Kintyre in a motorhome, not jealous at all!
SOTA Activation Mapping
HF Set up on High Raise
I didn't really have a plan on the way back from High Raise and that was reflected in me missing Sergeant Man which would have been a quick and easy detour. By the time I noticed it I was too far gone to turn back. Again, with the plan to get to Pike O'Stickle I found that I had to pass right by Harrison Stickle to get on the path to Pike O'Stickle so it made sense to get it out of the way.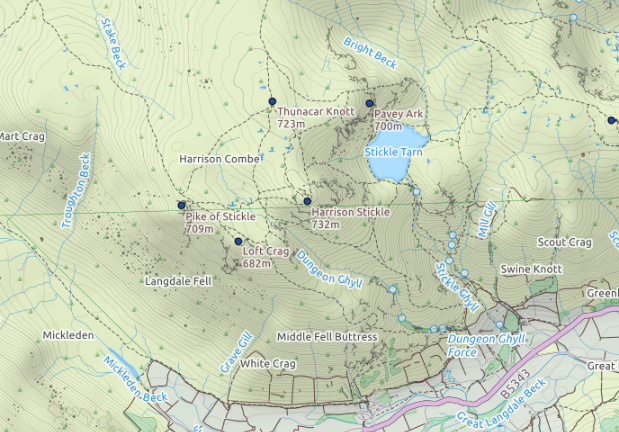 Harrison Stickle
There were a lot of folk around now. I've started taking a few QSL cards with me, as it helps explain what I'm up to and the two young lads were made up to get something free when they asked me about what I was doing!
Muggles on Harrison Stickle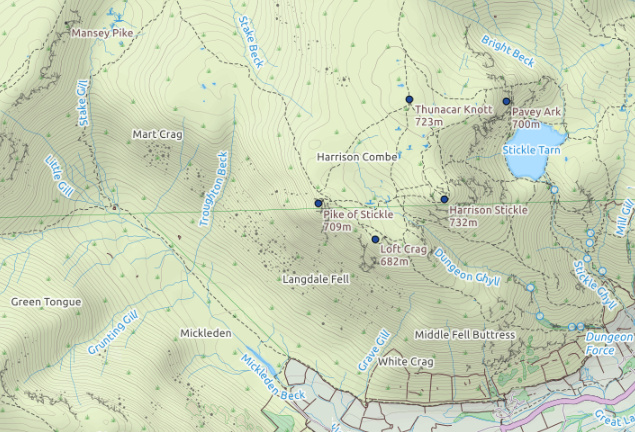 My first time visiting Pike of Stickle and what a handsome summit this is, very Tolkein-esk! Some rock scrambling is required to get to the top, but it is fairly spacious (not 80m dipole spacious however!) Plenty of folk making the pilgramage here too!
Pike of Stickle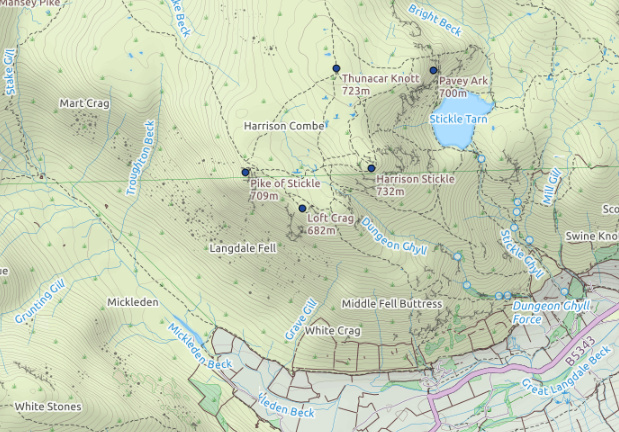 My final Wainwright, Loft Crag, again new to me.
View South from Loft Crag
By this point I was short on time, so made the decision to use the FT1XD with stock whip, which worked really well considering how short it is! I could hear Andy G8CPZ/P on Latrigg so it was great to get him in the log from here. A couple of S2S contacts with Colin M1BUU/P from High Street and then Stony Cove Pike was great too, as was getting James M0JCQ/P and his wife M7CID/P on St Sunday Crag and then Fairfield. James is trying for Mountain Goat this week with lots of fells planned.
Descent was down by the side of Harrison Stickle, on a mainly easy footpath with a few menacing drops at the start to Dungeon Ghyll.
Descent from the Langdales via North-Easterly Dungeon Ghyll route
This was magnificent walking weather, clear skies but not too hot. Thank you to the chasers, what a great day's radio and walking. I would say my unplanned route worked out very favourably, but I would take in Sergeant Man for the minimal additional effort.
It is Alex and I's 17 year wedding Anniversary this weekend, having not really planned anything we ended up in The Smithy (on the road up to Booths in Windermere) which is a wonderful, somewhat undiscovered bar, very relaxed and serves lovely pizzas.