About a year ago one of my walking poles managed to lose its spikey end bit. I didn't throw it away but thought about getting a replacement end. This ended up being nearly as expensive as getting a new one. Which I did but that pair has been liberated by Mrs g7kse. That's a whole different story.
Anyway, back to the point. I decided to use what was left as a small mast and after a bit of faffing about used it the other day on Grasmoor, Whiteside, Hopegill head and Grizedale Pike. Probably nothing new but I took the handle off so I just had the bare Al shaft and I 3d printed a little end piece that accepted either a 25mm ID water pipe or a 20mm OD bit of sturdy conduit (not the thin wall stuff). Seemed to work quite except when the wind blew the extended version over with a a particularly strong gust.
Here's an action shot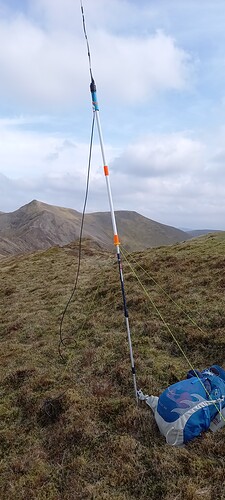 Happy to share the stl or design if wanted.
Alex