Reg reminded me this evening that I'd not yet logged my activation of Whiteside. So a few moments ago, that's exactly what I did.
I had the week commencing 9th August '21 off work to do something with the kids. Monday was at the Velodrome, Tuesday was Quad Biking at Slaley Hall, Wednesday started with a morning Swim in Bassenthwaite, some scootering, and other jobs, and the Thursday arrived, the day Luke and I were going to go and activate Whiteside. Mike (2E0IKM) had often talked about doing this one regularly after work, and TBH, I was not at all expecting half of it…
Getting to the Car Park just beyond the cattle grid was no easy task, the traffic was fairly heavy, but we all dutifully lined up as far to the left as possible to allow the two busses to get passed - all in all a 30 min drive took about an hour.
Parking was no problem, and we were soon on our way.

The journey started off easy enough, and although I was expecting the gradient to increase, I though we would soon be at the summit. It had been dry for some time so I was surprised to come across a little boggy stream, but it posed no issues and further along we crossed a delightful bridge.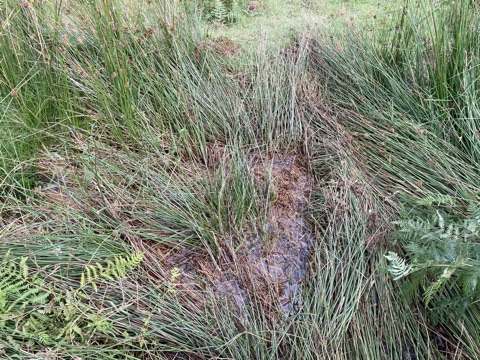 We we soon gaining altitude fast.
Views looking back towards Crummock and Loweswater.

Then the rocks arrived, and on more than one occasion I was unsure of the path ahead. Filled with anxiety every time Luke sprinted off or I looked back at would I would anticipate to be an unpleasant detour should one lose ones footing, we pressed on.

"It's only over there Dad"
We reached a a grassy area and I started to feel much better, and our pace increased. Near Whit Ben perhaps?

Some more rocky bits and some eaier to follow paths took us to the summit.

It was a quick activation and bite to eat on the summit. I had not particularly enjoyed getting there, and once on the summit I found the wind a little to much to handle, so we grabbed a bite to eat, used the 2m Handheld and got 4 local contacts only.
Views from the tops.
After making contact with;
We headed down as soon as we could. I was concerned that the clouds were building and although no rain was forecast, I had no desire to head down the way we came in the rain.
Luke heading down without a care in the world.
We made it down safely and my confidence increased all day. Towards the end of the walk I was relaxing and enjoying it. Something to build from.