As you know, I'm not one for nicely written activation reports. I also generally neglect to take decent photos but I thought I'd share these as they tell their own story.
I'd planned on going back to Harter fell (ldw-112) during the half term break but the weather looked rubbish all week (the days it was passable I was away, which also helped). Saturday didn't look too bad so I thought I'd take a punt. Eskdale isn't too far away from me but as it's down little lanes it takes about 40 mins to get to the bottom of Hardknott pass.
I keep missing part of the path up from there as it gets a bit difficult to follow as you get into the open fell part, so here's the 2nd attempt to getting it right in a few months (Which I didn't). Sleet turned to snow and the cloud descended. The result was a white out with shortening visibility by the minute. by the time I left the summit it was around 30m.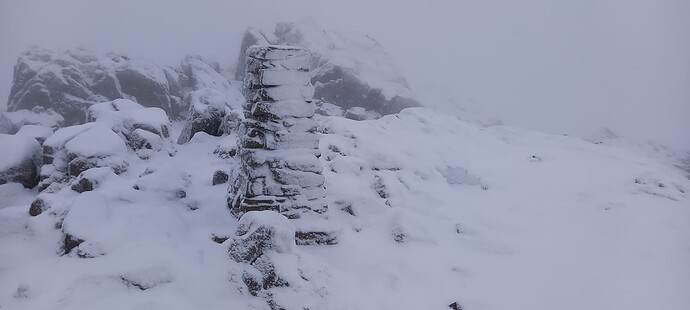 I quite like it like this although you I need to be careful on choosing the right route off. Very easy to stray when it's like this.
Got down ok and managed to follow the path correctly this time. The snow actually helped. Got back to the car just as the cloud cleared and the temperature hit 9c (a bit weird). I had some lunch and seeing as I was in the area and just about had enough battery in the VX8 I trotted up the pass to the top and went up hard knott (ldw-151) in the sunshine.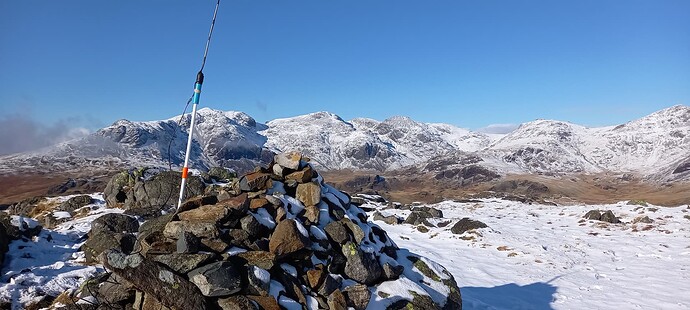 What a difference a few hours makes. As I left the summit the cloud came back in and covered the place. Shame I couldn't do any more.
Equipment was:
Yaesu VX8G - Aprs turned off to conserve battery
RG58 coax to a very handy flowerpot antenna courtesy of Andrew G4VFL.
The 'mast' is 2 lengths of thick walled 22mm conduit that is joined with 3d printed couplings that fit in the rucksack
Powered by some rather sad looking Pepperoni sandwiches and tea

If you're interested I put the routes I've gone on Komoot