Old Man of Coniston (LDW-030), Brim Fell (LDW-037) and Dow Crag (LDW-047)
I was warned that the end of the public road at Walna Scar had been made into Pay & Display parking since my last visit in 2019. And so it has: £4 up to 4 hours, £8 for longer. I had persuaded my wife to give me lots of coins assuming it would be a cash-only machine at this remote location. It turned out to be both card and cash but it wouldn't take the coins anyway (probably full up). Moral of the story: always take both means of payment.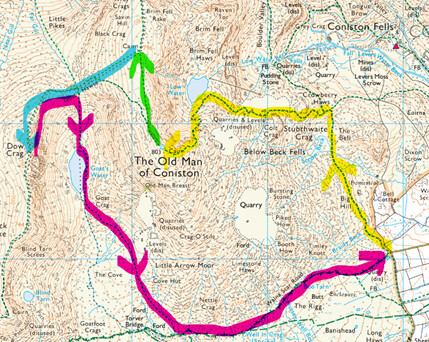 © OS Maps 2021
My circular walk (anticlockwise) for the 3 WOTAs starting at Walna Scar road
Old Man of Coniston
Even at 8am it felt warm walking in the direct sunlight. This was a recurring theme for me as I felt uncomfortable in the heat and humidity on the steep ascent sections on the OM of C and on the midday return leg of the route. I know most folk like it warm and sunny but I prefer it a bit cooler.
I took the popular quarry road to the summit via the mine workings and Low Water [yellow route]. Wainwright is very dismissive of this route in his The Southern Fells book: "On this stony parade fancy handbags and painted toenails are as likely to be seen as rucksacks and boots". I saw neither handbags or toenails or indeed anyone as I had the route to myself, though others quickly followed.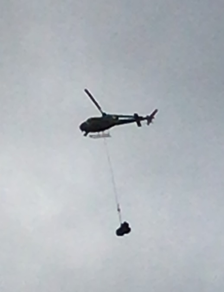 I noticed a helicopter circling high up near the summit. It appeared to land and then later it flew over me with a load. Ten minutes later it was back without the load to do more circling at that spot. Maybe it was moving one of those giant bags of rocks [used to repair and improve the paths] from OM of C to somewhere else.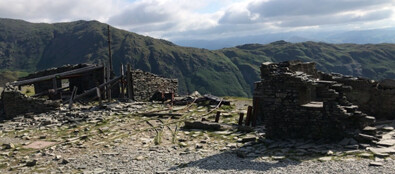 I had explored the remains of the old mine infrastructure on my previous visit in 2019 so didn't linger long there.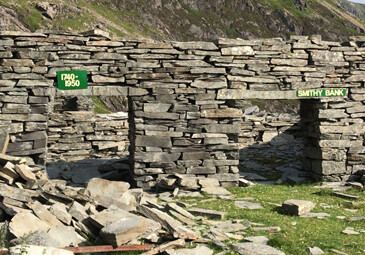 Remains of the office buildings. A breed of very hardy men must have worked these mines and in all weathers.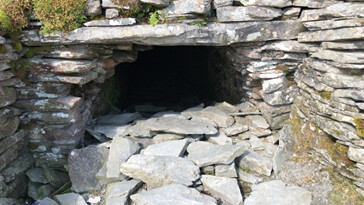 I'm sure this mine entrance was closed last time. There was a strong cool breeze coming out of it [which was very refreshing] so it must be long or have a vent somewhere.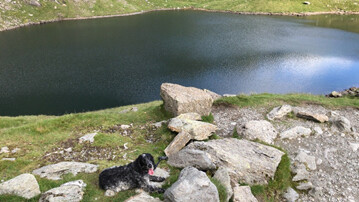 Low Water looking very inviting. It was already too warm for both of us. Fortunately, there were enough places with running water for my dog.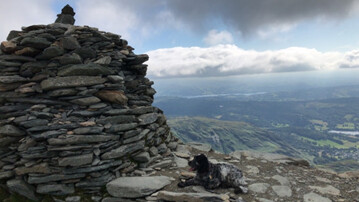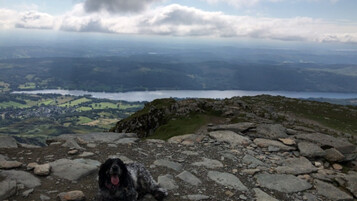 Only three others at the summit and plenty of places to sit and activate.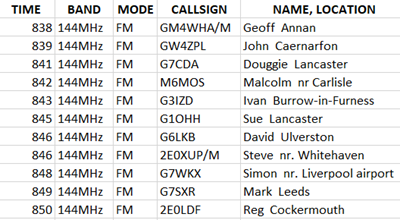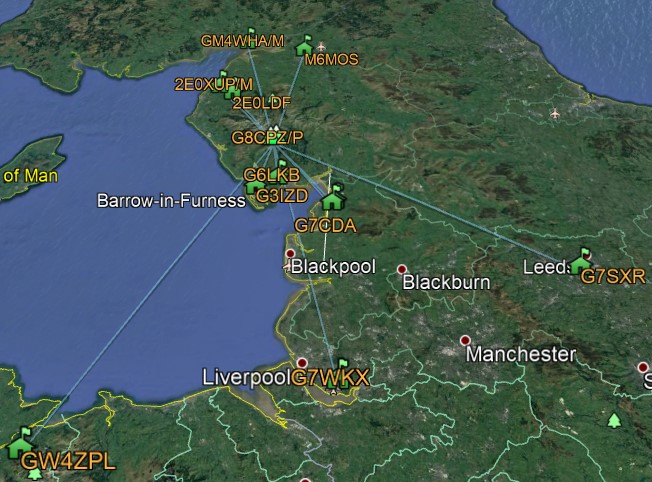 (C) Google Earth 2021, KML courtesy M0NOM
Brim Fell
After the hard slog up OM of C the path to Brim Fell is a gentle stroll [green route on map] made more pleasant today by having a good breeze.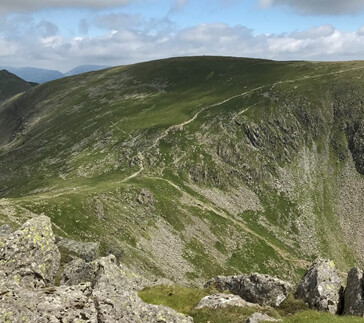 Brim Fell (seen from Dow Crag). No 'rocky furniture' at the summit so I just sat against the cairn.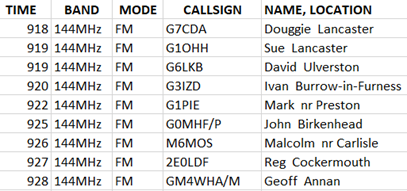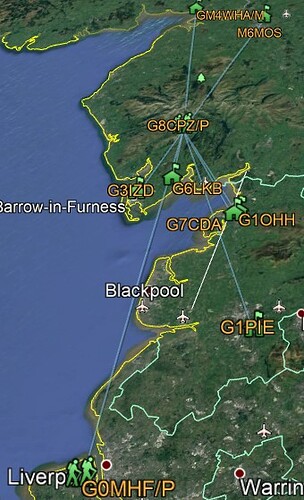 (C) Google Earth 2021, KML courtesy M0NOM
Dow Crag
The OS map shows a straight-line public footpath from Brim Fell that intersects the path and the saddle between OM of C and Dow Crag [blue route on map], although you'll find nothing on the ground accept grass. The final section of the path to Dow Crag is rocky but nothing too technical.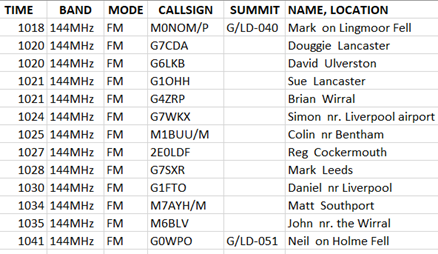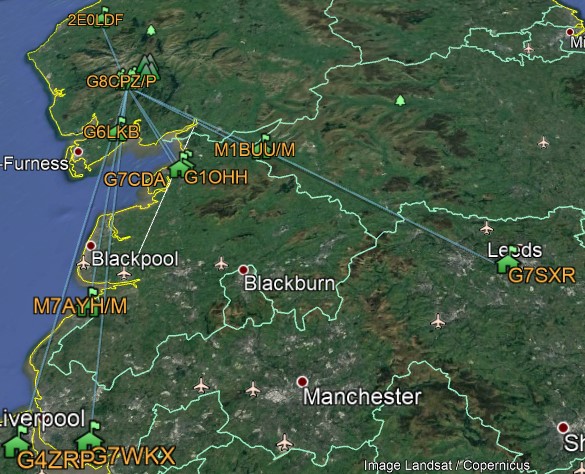 (C) Google Earth 2021, KML courtesy M0NOM
I retraced the path as far as the saddle and then took the southerly path down the saddle and by the edge of Goat's Water [purple route on map] where one of my party did some wild swimming. I declined and remained hot and sweaty for the rest of the walk.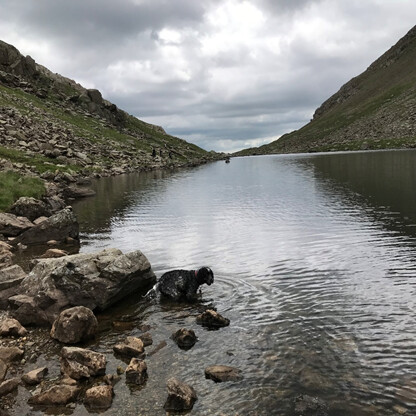 It was an uneventful and boring slog beyond the tarn back to the parking area, now with many walkers going in the opposite direction from me. There were only about six cars when I arrived at 8am but now at about 1pm it was chocker with vehicles.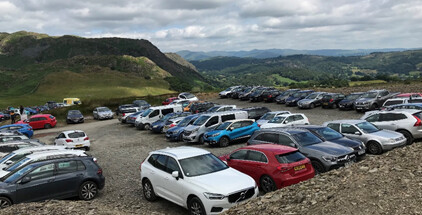 With the school summer holidays starting next week [not to mention, so called 'Freedom Day'], I think I'll need to start my walks even earlier to avoid the worst of the crowds and the summer heat. I was glad to take the weight off my feet and get home for a late lunch and a cold beer.
Thank you to all chasers for their contacts. Thanks to Mark @M0NOM for the ADIF-to-KML converter to make the Google Earth contacts maps.
73 Andy